Blog
All the latest from The ValPal Network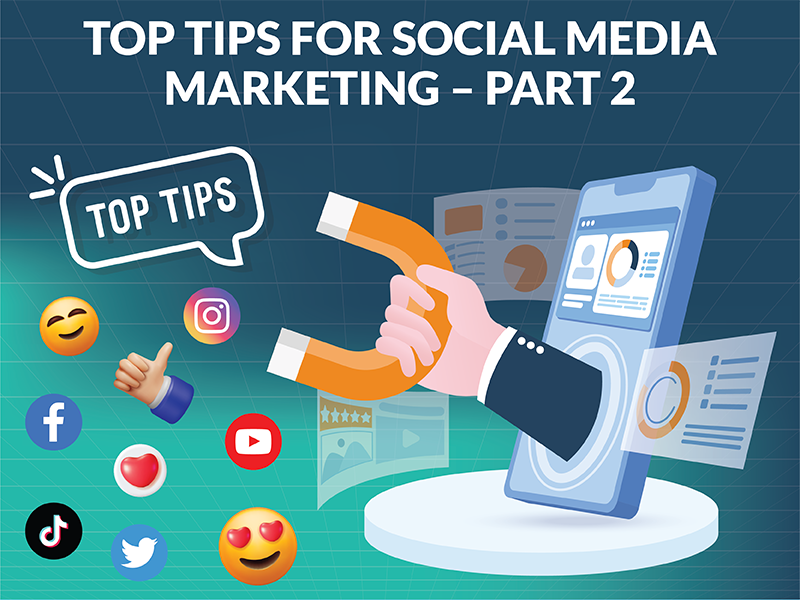 Top Tips For Social Media Marketing – Part 2
by Steph Rady
Welcome back to the second instalment of our blog series on social media marketing tips for estate agents! In part one, we delved into the fundamentals of creating a compelling social media presence and how you can maximise engagement through the types of content you post and how often you post. Now, in part two, we'll explore more advanced strategies that focus on hashtags, trends, generating homeowner and landlord leads, and effectively monitoring your success. Let's dive right in!
Harness the Power of Hashtags
Hashtags are the unsung heroes of social media marketing. They can help your posts reach a broader and more relevant audience. Here's how to make the most of them:
Research and Use Relevant Hashtags: Identify popular and industry-specific and local hashtags that resonate with your target audience. For example, #PropertyUK, #HomeSweetHome, or #LondonLandlords.
Create Your Own Unique Hashtags: Craft custom hashtags that reflect your brand, promotions, or unique selling points. These can help users associate your estate agency with specific themes or campaigns.
Use Trending Hashtags: Keep an eye on trending hashtags, and if they align with your content, incorporate them. This can give your posts a boost in visibility.
Don't Overdo It: While hashtags are valuable, avoid using too many in a single post. Stick to a handful of relevant ones to maintain a clean and professional appearance.
2. Stay on Top of Trends
Social media is constantly evolving, and staying current with trends is crucial for estate agents looking to connect with their audience.
Follow Industry News: Stay informed about property market trends, legal changes, and industry news. Share this information to position yourself as an authoritative source.
Leverage Seasonal Trends: Capitalise on seasonal trends in the property market. For example, create content around buying or selling during the spring or the holiday season.
Utilise Social Media Features: Stay updated on new features and trends within social media platforms. Features like Stories, Reels, or live streaming can help you engage with your audience in fresh and exciting ways.
3. Generating Homeowner and Landlord Leads
Converting social media engagement into homeowner and landlord leads is the ultimate goal. Here's how to make it happen:
Create Compelling Content: Share informative blog posts, property listings, and videos that showcase your expertise. Highlight unique selling points and emphasise your agency's strengths. Make sure you incorporate case studies with real-time examples to show potential landlords and home sellers why they should list their property with you.
Run Targeted Ads: Utilise the advanced targeting options on platforms like Facebook and Instagram to reach homeowners and landlords. Be sure to lead with value, offering something of use in exchange for their contact details such as an instant online valuation or a free guide.
Host Virtual Tours: Live or pre-recorded virtual property tours can captivate your audience and encourage inquiries.
Engage with Comments and Messages: Respond promptly to comments and messages, and be ready to provide more information or schedule viewings or valuations.
4. Monitoring Success and Making Adjustments
To ensure your social media efforts are paying off, you must track your performance and adjust your strategies accordingly.
Use Analytics Tools: Social media platforms offer robust analytics tools that provide insights into your posts' performance. Pay attention to metrics like reach, engagement, click-through rates, and conversions.
Set Clear Goals: Establish specific, measurable goals for your social media campaigns. Are you aiming to increase leads, boost website traffic, or raise brand awareness? Your goals will dictate your success metrics.
A/B Testing: Experiment with different content types, posting schedules, and ad creatives. A/B testing allows you to identify what resonates best with your audience and build on this to further improve campaigns.
Stay Flexible: Be willing to adapt your strategies based on what the data reveals. If a particular approach isn't delivering results, don't hesitate to pivot. We often find that the posts and adverts we prefer aren't always the ones that resonate best with your audience. Listen to the data, data doesn't lie!
By implementing these tips, you'll be better equipped to leverage social media to its fullest potential and continue growing your estate agency business. Remember, social media is a dynamic landscape, so it's essential to remain adaptable and continually refine your approach. Stay tuned for more valuable insights, and watch your online presence flourish!
If you would like to chat to a member of our expert marketing team about improving your social media presence, or you're looking to outsource your social media marketing, please feel free to get in touch: socialmedia@angelsmedia.co.uk, 0208 663 4940. Want to hear more?
---
Leave your name and contact details with us and we'll get back to you shortly!
Alternatively, you can contact us directly.