Facebook Ad Management
Facebook ads are one of the cheapest and most effective forms of online advertising. There are a variety of different ad types you can run depending on your marketing goals.
Whether your goals are vendor and landlord lead generation, buyer and tenant lead generation, brand awareness, re-engaging with your database and website visitors, or all of the above, we have the perfect solution to help promote your agency.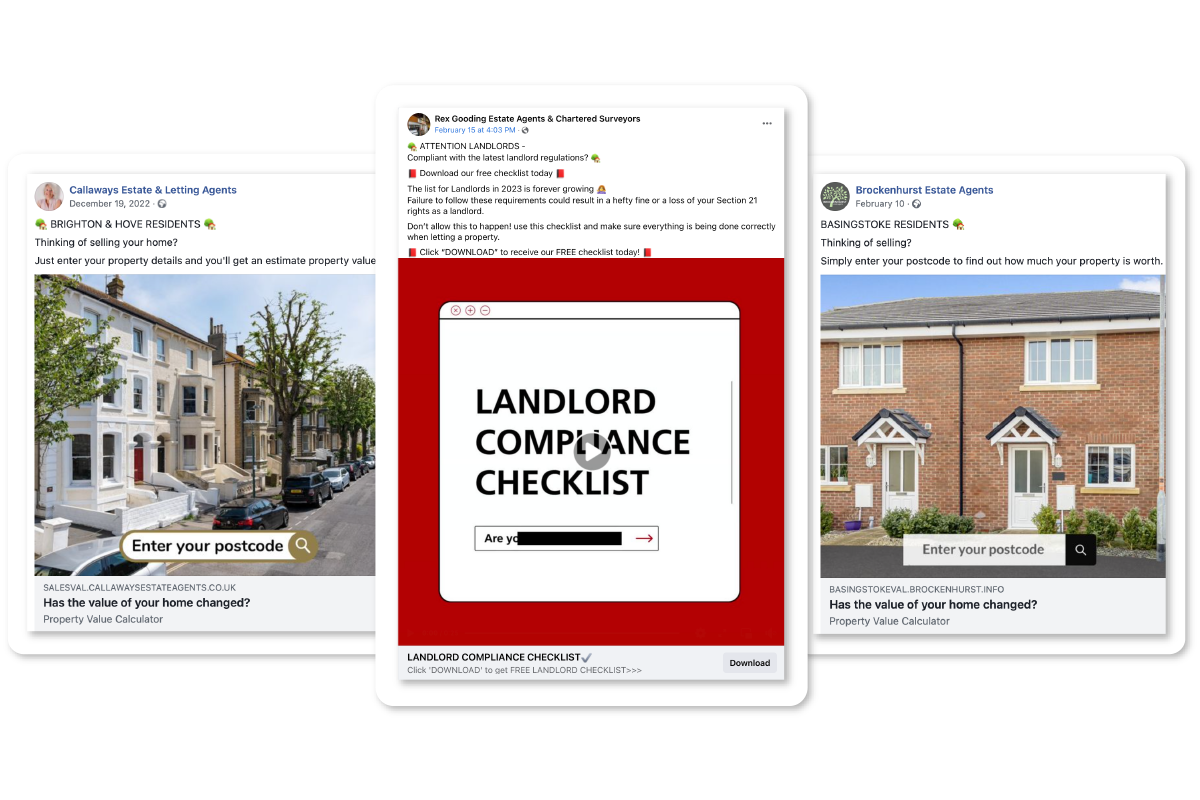 Introducing SocialPal in association with Paul Long. Paul Long is a widely renowned Facebook ads expert within the property industry who also owns his own estate agency. Paul has helped hundreds of agents reach their potential with Facebook ads and now we have partnered to offer the best Facebook ad managed service available to estate and letting agents.
With SocialPal, you benefit from the best minds in the industry analysing your ad account on a weekly basis, ongoing campaign management to maximise results and suggestions for trialling new campaigns based on updates to Facebook and what's working nationwide.
We will setup and manage a number of campaigns including adverts targeted to generate vendor leads, landlord leads, promote buyer enquiries, tenant enquiries and retarget your current database and website visitors. Our team will work with your budgets and advise the best campaigns to suit your immediate needs and long term goals.
Paul Long Services
The DIY Package
Lead Generation
SocialPal
Secret Facebook group
Weekly training videos
Group training
Facebook ad build and setup
Ongoing campaign management
Tried and tested ValPal sales Ads
Tried and tested Landlord lead Ads
Dedicated Account Manager
Monthly reports
Buyer/Tenant Adverts
Retargeting Ad campaigns
Bespoke Adverts and Designs
Regular calls to run over campaigns
Paul Long Reviews Campaigns
*All campaigns require advertising budget to be paid directly to Facebook

With AdVantage, you can now feed your property listings into Facebook every hour and let the power of AI & machine learning find local buyers and sellers...
AdVantage is our brand new service designed to transform the way you advertise your property listings on Facebook and Instagram.
We have streamlined the process by pushing your property listings directly into Facebook every hour. These listings automatically populate your pre-designed ads, saving you valuable time and effort. This ensures that your ads are always up-to-date, just like they are on your website.
To get a better understanding of how AdVantage works,
watch our handy explainer video:
To see how your adverts would look,
watch this video:

After working with Paula and Steph to get the right processes in place for MovePal, we have seen so much success from the Facebook sales adverts - 6 instructions so far, more valuations booked - we've now decided to run landlord adverts. These adverts are still new but so far out of 30 calls, I spoke to 10 people. 5 immediately converted, 1 needs to be renovated but will be available in April. 6 landlords with a total of 27 properties. We couldn't be happier!
James Filtness, Ideal Locations Want to hear more?
---
Leave your name and contact details with us and we'll get back to you shortly!
Alternatively, you can contact us directly.